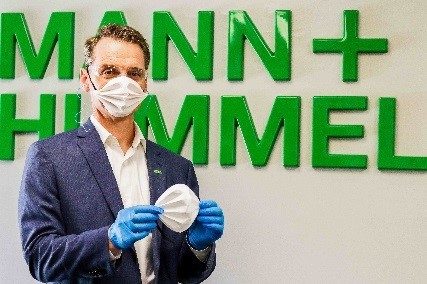 Sara Longardner
sara.longardner@mann-hummel.com
+1 419.215.7168
About MANN+HUMMEL
MANN+HUMMEL is a leading global expert in filtration. The company group with its headquarters in Ludwigsburg, Germany, develops filtration solutions for automobiles, industrial applications, clean indoor air in industry and public spaces and the sustainable use of water. In 2018, more than 20,000 employees at over 80 locations worldwide generated sales of around 4 billion euros. The products include air filter systems, suction systems, liquid filter systems, technical plastic parts, filter media, cabin filters, industrial filters as well as membranes and modules for water filtration, wastewater treatment and process applications.
Further information about MANN+HUMMEL is available at www.mann-hummel.com
MANN+HUMMEL Adapts Filtration Portfolio to Aid in COVID-19 Pandemic
Portable negative pressure machine for care of COVID-19 patients
New partnership with major OEM to supply filtration for respirators
Production of face masks and inlays for filtration in homemade masks
Membrane expertise plays vital role in various critical functions
April 22, 2020 – MANN+HUMMEL, a leading global expert in filtration, has implemented a number of initiatives to support the growing battle against coronavirus SARS-CoV-2. 
"Companies are mobilizing at unbelievable speeds to assist the frontlines in their fight against COVID-19," said Charles Vaillant, Chief Technology/Digital Officer at MANN+HUMMEL.   "It's incredible to see the levels of innovation, the speed at which it's happening, and most of all the sincere belief that we can make a difference in this fight.  If we can save even one life, it makes these efforts all worthwhile, and I am immensely proud of MANN+HUMMEL as we embrace innovation and quickly adapt to help others."
While MANN+HUMMEL has been known for their dedication to the automotive, heavy duty and industrial segments, the company has been committed to growth in Life Sciences & Environment.  Since 2015, MANN+HUMMEL has acquired air and water filtration leaders including Tri-Dim Filter Corporation and MICRODYN-NADIR, among others.  The acquisitions gave MANN+HUMMEL expertise in HEPA filtration, cleanroom filtration and Operating Room (laminar flow) technologies.
HEPA Filtration and Negative Pressure Machine

The company's TRI-KLEEN product gives public health officials and hospital staff the ability to turn a COVID-19 patient's room into a negative pressure environment, providing a tool to help field hospitals, temporary care units, nursing homes or ad-hoc locations to maintain safety for patients and frontline staff.  While initially sold by Tri-Dim, the technology has been rapidly scaled through MANN+HUMMEL's global network to prepare for mass production, which was accomplished in less than 30 days.
Respirator Filtration Device for Hospital Frontline
In support of a major automaker producing respirators to protect frontline health care workers, MANN+HUMMEL will urgently provide up to 5,000 filters per day to the project. The respirator is a collective effort from contributing companies, as it mainly uses off-the-shelf parts to construct a life-saving device, including a seat fan from a pickup truck, a battery from a power tool, and now a HEPA filter supplied by MANN+HUMMEL.  The time to market for the HEPA filter design for respirator devices from initial concept to full production was only 12 days. 
Production and supply of face masks

"MANN+HUMMEL has repeatedly demonstrated our competence in successfully transferring technology and know-how to new applications. We now use our filtration competence in automotive to build up and drive the production and supply of face masks. We have several groups in different countries all over the world working on this initiative," said Kurk Wilks, President and CEO of the MANN+HUMMEL Group.
Globally, MANN+HUMMEL began 2020 with zero face mask production, and now anticipates the production of over 5 million face masks per month by May 1.  One example of the company's speed and innovation is taking place at the company's facility in Fayetteville, NC, as two production lines have been converted to produce daily protective grade (non-certified) face masks, with a time to market of 15 days.  Initially, the product will be supplied to MANN+HUMMEL employees to protect those keeping the company moving forward.  As production ramps up, the masks will also be sold to customers. 
MANN+HUMMEL is also working on a design to provide highly engineered filtration media inserts that can be used in homemade mask designs.  The concept would greatly increase the effectiveness of homemade masks, featuring a thin, breathable media.  The company anticipates having the media inserts available within 2 weeks, available through various e-commerce channels.
Membranes keep our communities running worldwide
MICRODYN-NADIR , a membrane and module specialist within MANN+HUMMEL, is continuing production at all plants as membrane technology helps keep our communities running worldwide. Membranes are a behind-the-scenes player in our global world, but they are vital to many industries. For instance, membranes ensure our wastewater plants are functioning, work to purify water, and are essential to the purification and concentration of some of the food we eat and beverages we drink.