Back
Air
2020
Article
Cabin Air
MANN+HUMMEL and Its Subsidiary Tri-Dim Filter Corporation Support Ford in Medical Equipment Production with HEPA Filter Supply
Life Sciences & Environment Business Unit to supply 3,500 High Efficiency Particulate Air (HEPA) filter elements per day
 Co-development of innovative solutions to prepare for future medical emergencies, such as powered air purifier respirators and other medical devices
LUDWIGSBURG / SPROCKHOEVEL/LOUISA , April 27, 2020 – As the coronavirus pandemic intensifies, the shortage of medical equipment has become a critical issue. As a market leader in filtration, MANN+HUMMEL will collaborate with Ford Motor Company, one of its key automotive customers, in the rapid development and production of powered air purifier respirators.
MANN+HUMMEL will supply the HEPA filter in the Ford-produced respirator, which will be worn by healthcare workers when treating COVID-19 patients. To date, MANN+HUMMEL produces, tests and ships 3,500 HEPA filter elements per day for this application, from their manufacturing sites in the USA and Germany. According to Ford, the automotive manufacturer is able to produce 100,000 respirators over the next two months.
The respirators are equipped with class H13 HEPA filters according to EN 1822 or the international norm ISO 29463. These filter classes are also used in operating rooms and in the pharmaceutical industry to reliably remove germs, viruses and microbiological contamination from the supply air. The European standard EN 1822 classifies HEPA filters, and evaluates them according to their performance at the MPPS (Most Penetrating Particle Size). The micro-glass fiber media used in pharmaceutical/healthcare applications typically has an MPPS close to 0.2 μm. Respectively, filter class H13 has an efficiency of at least 99.95 percent.
"These critical times call for extraordinary actions and cooperation. Using our state-of-the-art HEPA filter production, in-house cleanroom test labs, and valued relationships with partners around the globe, we can blend our talents and expertise to help people in need. Our global teams have been working tirelessly to adapt to meet critical needs, with rapid development and time to market. I couldn't be more proud of our team's efforts to make a difference," said Kurk Wilks, President & Chief Executive Officer of the MANN+HUMMEL Group.
With the acquisition of the European Vokes Air Group in 2014, Tri-Dim Filter Corporation in 2018 and Hardy Filtration in 2019, MANN+HUMMEL added almost 90 years of leading air filtration and cleanroom technology expertise as well as a state of the art HVAC and HEPA filtration portfolio to its unmatched portfolio of automotive and industrial filtration products and services.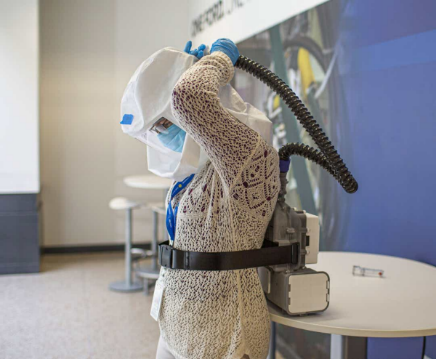 Kathrin Sauter
kathrin.sauter@mann-hummel.com
+49 (0) 7141 98-3048
Laura Montag
laura.montag(at)mann-hummel.com
+49 (0) 7141 98-3354
About MANN+HUMMEL
MANN+HUMMEL is a leading global expert in filtration. The company group with its headquarters in Ludwigsburg, Germany, develops filtration solutions for automobiles, industrial applications, clean indoor air in industry and public spaces and the sustainable use of water. In 2018, more than 20,000 employees at over 80 locations worldwide generated sales of around 4 billion euros. The products include air filter systems, suction systems, liquid filter systems, technical plastic parts, filter media, cabin filters, industrial filters as well as membranes and modules for water filtration, wastewater treatment and process applications.
Further information about MANN+HUMMEL is available at www.mann-hummel.com
 
About Tri-Dim
Tri-Dim Filter Corporation, a member of the MANN+HUMMEL Group, is a leading manufacturer of HVAC filtration products and services in North America. The company is headquartered in Louisa, VA with locations throughout the United States and Canada.  Tri-Dim is the leader in offering innovative filtration products and solutions in HVAC filtration, liquid filtration, IAQ testing, air purification equipment and gas phase filtration.  Tri-Dim Filter Corporation has 19 locations in the United States and approximately 800 employees.  Further information about Tri-Dim Filter Corporation is available at www.tridim.com.