Purolator and Move Clean collaborate to incorporate filtration products into Total Vehicle Hygiene program
March 9, 2021 — Move Clean, a trusted vehicle hygiene solutions provider announced today their latest industry collaboration with Purolator Filters (a division of MANN+HUMMEL - the leading global expert in filtration), to incorporate premium air quality solutions into their total vehicle hygiene program designed to keep riders and drivers safe wherever vehicles are sold, serviced or shared.
Alongside other automotive industry leaders Shell Lubricants US and Turtle Wax Inc, Purolator will help bring vehicle hygiene solutions to the automotive industry at scale. Incorporating Purolator's world-class line-up of cabin air filtration solutions with Move Clean's current offering of safe, long-lasting and effective vehicle surface disinfectants and deodorizers, will result in a cleaner and safer travel experience for drivers and riders across America.
Total Protection
Consumer view on hygiene continues to evolve as passengers think more about the surfaces they touch and the air they breathe. As a result, hygiene practices have had to respond to new consumer expectations. While there is a heightened awareness about hygiene during the current pandemic, there is a continued and cyclical need for hygiene to also address cold, flu and allergy seasons. Offering consumers a solution to address both surface cleanliness and air quality is essential in supporting a healthier and happier transportation experience.
"Our goal from the beginning has been to partner with leading automotive companies to deliver customers an integrated solution that's trusted and protects their passengers and vehicle" said, Nathan Fink, founder and president of Move Clean. "Partnering with Purolator is a huge win, opening up multiple solutions to help support customer needs and concerns."
"We're really pleased to see Move Clean continue to expand and enhance their vehicle hygiene offer to protect more drivers and riders across the country and it's great to see MANN+HUMMEL join as a partner in this important journey" said Jim McCormick VP, Shell Lubricants.
Premium Filtration
Move Clean will now be offering PurolatorBOSS® Premium Cabin Air Filters with Febreze Freshness as an additional service option, optimizing overall driving comfort. PurolatorBOSS® Premium Cabin Air Filters have triple layer protection that outperforms other types of cabin air filters, and includes:
An antimicrobial layer which prevents harmful odor causing bacteria and mold growth on the filter,
An activated charcoal layer that absorbs external odors and gases,
A particulate layer which blocks 99% of fine particles like road dust, soot, pollen, and other inert allergens from entering the vehicle's cabin
"We are very pleased to enter into this exciting new partnership with Move Clean", said Daryl Benton, Vice President of Sales & Marketing – Purolator. "Americans spend over 300 hours a year inside their cars and light trucks – that's a lot of time in a confined space exposed to various levels of potentially dirty outside air. Our PuolatorBOSS Premium Cabin Air Filter with Febreze Freshness is the ideal product to support a more pleasant driving, or riding experience while inside the vehicle.

PurolatorBOSS Premium Cabin Air Filters and Move Clean solutions are available in select markets in the US and available through key transportation partners. For more information about Move Clean and its products and partners, please visit www.moveclean.co.  
Certain trademarks used under license from The Procter & Gamble Company or its affiliates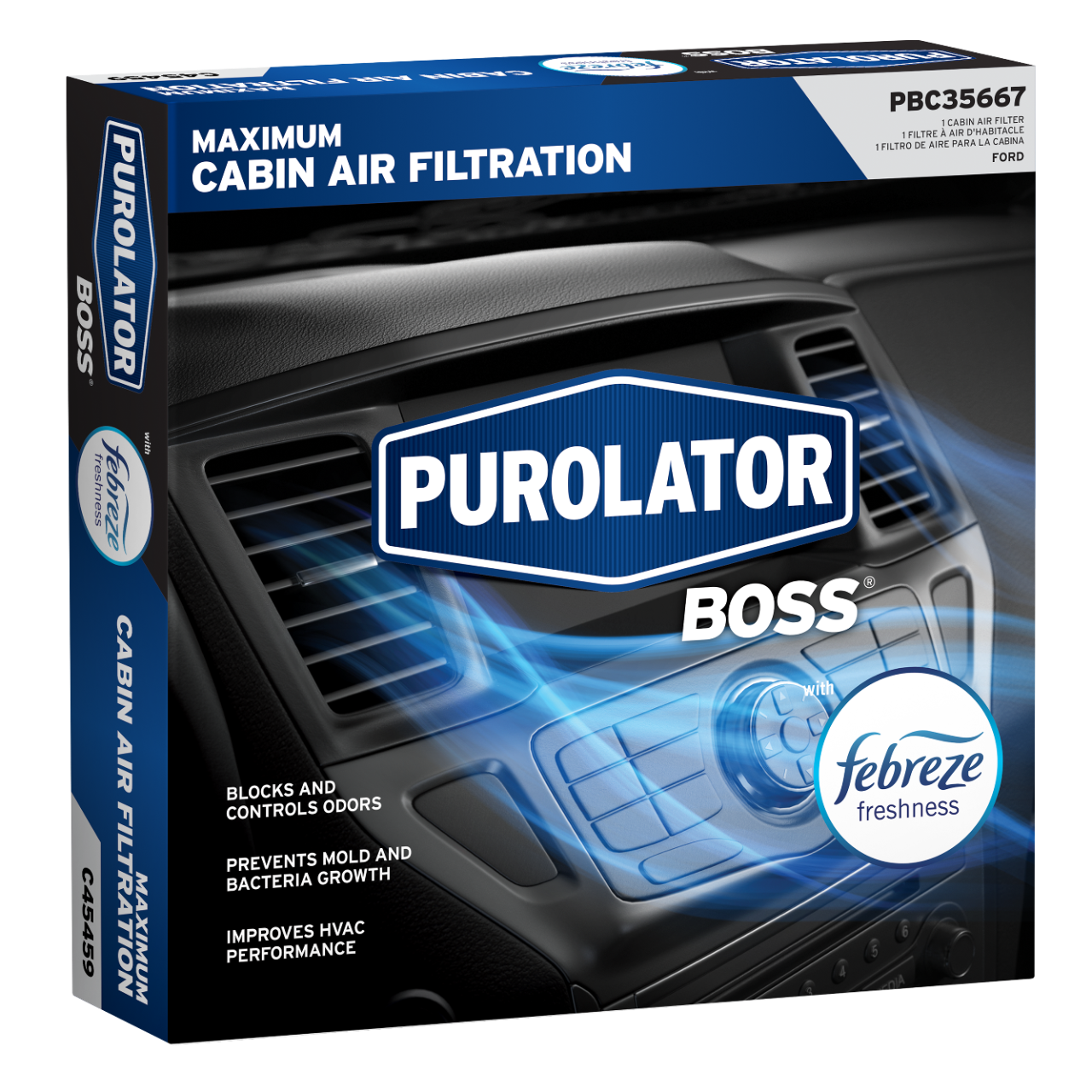 About Purolator
Purolator is an innovator of automotive filtration products for the aftermarket, manufactured to the highest standard by American workers in Fayetteville, N.C. Trusted by professional automotive technicians and do-it-yourself consumers across North America, the Purolator product line includes oil, air, cabin air and fuel filters. An industry pioneer since inventing the first oil filter in 1923, Purolator is backed by an internal team of forward-thinking engineers and countless filtration patents. The company's mission to deliver solutions to support the improved performance of advanced engine and oil technologies reinforces a renewed brand promise – "Nothing Gets By Us."
For more information, visit www.PurolatorNOW.com
About MANN+HUMMEL
MANN+HUMMEL is a leading global expert in filtration. The Ludwigsburg-based group develops filtration solutions for vehicles, industrial applications, clean air in indoor and outdoor spaces as well as for the sustainable use of water. In 2019, over 22,000 employees at more than 80 locations worldwide generated a turnover of EUR 4.2 billion. Products include, amongst others, air filter systems, intake systems, liquid filters, technical plastic parts, filter media, cabin filters, industrial filters and membranes for water filtration, sewage treatment and process applications.
You can find further information on MANN+HUMMEL at https://www.mann-hummel.com
About Move Clean
Move Clean is a provider of trusted vehicle hygiene solutions to keep drivers, riders and workers safe and healthy. Move Clean has partnered with leading automotive companies including Shell, Turtle Wax Inc., and MANN + HUMMEL to address protecting consumers and passengers within the automotive segment.
For more information, please visit www.moveclean.co.