Back
2021
PurolatorBOSS Cabin Air
Purolator Filters Helps Drive Community Health with PurolatorBOSS® Premium Cabin Air Filters — Filter Virus Aerosols
Raleigh, N.C. – Aug. 24, 2021 – Purolator Filters (a division of MANN+HUMMEL— the leading global expert in filtration), recently announced it is encouraging motorists to opt for clean, healthy air inside their vehicles. The company supports the light vehicle community with advanced performance cabin air filtration technology.  PurolatorBOSS® Premium Cabin Air Filters with Febreze Freshness feature triple layer protection and are specifically engineered to optimize fresh, healthy air inside the car's cabin. With Americans spending over 300 hours a year in their cars, there is a growing trend for an improved passenger experience. 
"Now more than ever, clean, safe air is critical for the health of vehicle occupants.  As a vehicle filtration leader, we believe it's our community responsibility to do our part when it comes to breathing better air.  In that effort, we have innovated a product that confidently filters virus aerosols, reduces allergen particles and filters out unpleasant road gasses and odors," states Daryl Benton, VP of Marketing and Sales - Americas. "PurolatorBOSS Premium Cabin Air Filters fit most popular vehicles and are easy to install in 15 minutes or less. This superior cabin air filter is one of the best ways to improve the in-car experience for all vehicle occupants."  
Visit the redesigned Purolator website here: https://www.PurolatorNOW.com
Certain trademarks used under license from The Procter & Gamble Company or its affiliates.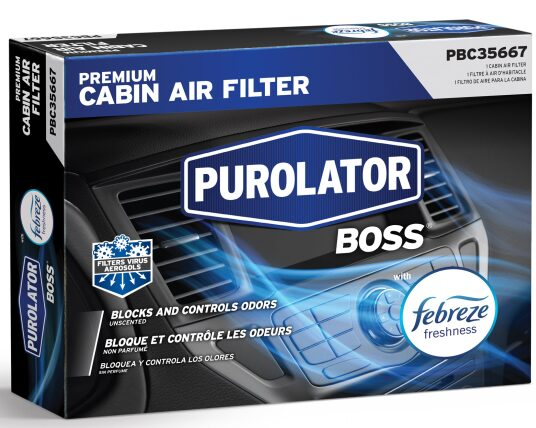 About Purolator

Purolator is an innovator of automotive filtration products for the aftermarket, manufactured to the highest standard by American workers in Fayetteville, N.C. Trusted by professional automotive technicians and do-it-yourself consumers across North America, the Purolator product line includes oil, air, cabin air and fuel filters. An industry pioneer since inventing the first oil filter in 1923, Purolator is backed by an internal team of forward-thinking engineers and countless filtration patents. The company's mission to deliver solutions to support the improved performance of advanced engine and oil technologies reinforces a renewed brand promise – "Nothing Gets By Us.®"
Visit the redesigned Purolator website here: https://www.PurolatorNOW.com
About MANN+HUMMEL
MANN+HUMMEL is a leading global company in filtration technology. Under its two business units, Transportation and Life Sciences & Environment, the Ludwigsburg-based Group develops intelligent solutions that enable cleaner mobility, cleaner air and cleaner water. Thus, the company makes an important contribution to a clean earth and the sustainable use of limited resources. In 2020, over 21,000 employees at more than 80 locations generated a turnover of EUR 3.8 billion.
Among the solutions are filter media and simulation technologies, liquid filters, air filtration and intake systems for various mobility and industrial applications, and membrane technologies for municipal and industrial water and wastewater treatment and use in sensitive process applications such as food manufacturing or biotechnology. Furthermore, the family-owned company founded in 1941 offers air and molecular filtration technologies for building filtration as well as for industrial applications and cleanrooms. These are used, for example, in power generation, microelectronics or operating rooms. Stationary and mobile air purifiers for indoor, semi-open spaces and outdoor areas complete the holistic approach to clean air. Depending on the area of application, they filter viruses, free allergens, bacteria or fine dust and nitrogen oxides from the ambient air.
You can find further information on MANN+HUMMEL at https://www.mann-hummel.com/
Contacts
Tina Davis
Senior Marketing Manager of Brand and Communications
MANN+HUMMEL Purolator Filters LLC
Phone: 910-689-3207
E-mail: tina.davis@mann-hummel.com
Marissa Colosanti
Copywriter
Gelia Marcom + Martech
Phone: 716-629-3269
E-mail: mcolosanti@gelia.com