Purolator Honored by Women in Auto Care – Received Three Automotive Communication Awards at AAPEX 2022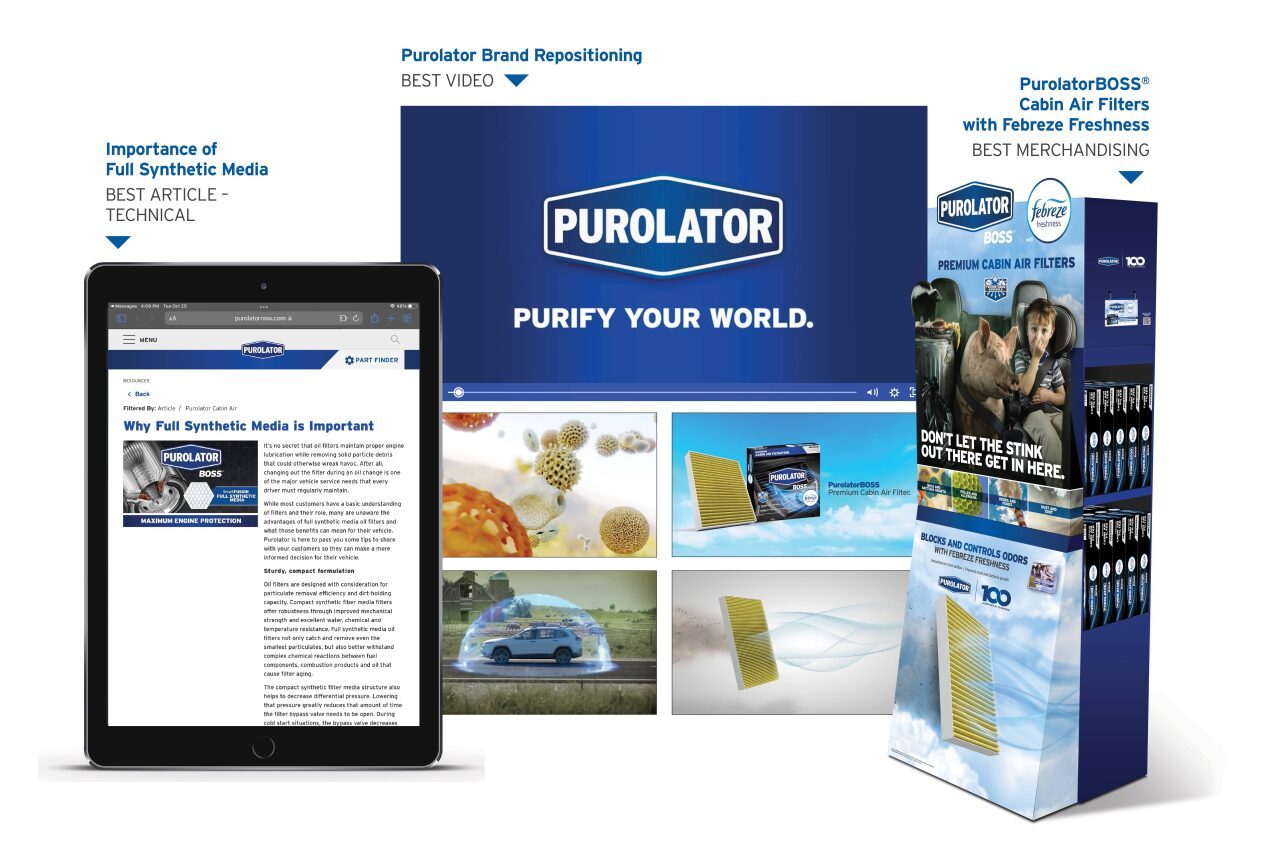 Las Vegas, N.V. – Nov. 3, 2022- At this year's Automotive Aftermarket Product Expo (AAPEX), Purolator Filters (a division of MANN+HUMMEL, - the leading global expert in filtration), received three Automotive Communication awards. The categories included best article/blog/content piece-technical, best video and best merchandising. These awards were presented by Women in Auto Care (WiAC), a community of the Auto Care Association.
"Our goal is to continuously inform and educate while also entertain consumers and customers alike on the importance of choosing premium filters," said Daryl Benton vice president of sales and marketing automotive market – North America at MANN+HUMMEL Purolator Filters LLC. "We are honored to earn recognition for these efforts from WiAC, an organization dedicated to the empowerment and advancement of women in the auto care industry." 
Best Article/Blog/Content Piece
The award-winning Purolator® article highlights the importance of full synthetic oil filter media with regard to filtration quality. Originally placed in Motor Age in late 2021, the article generated significant engagement and was highlighted in other digital publications in early 2022. The article showcases PurolatorBOSS® Oil Filters, which feature SmartFUSION™ technology, and are engineered to be the ideal match for full synthetic oils. Noting this, the article gives customers a deeper insight into the advantages of full synthetic media oil filters and passes along useful tips for technicians to share with their customers.  
Best Merchandising
When PurolatorBOSS® Premium Cabin Air Filters with Febreze Freshness were introduced, Purolator created a freestanding point-of-sale floor display to promote the product. The display contains high-end graphics and a quality finish with an application guide to assist consumers in finding the right filter for them. The display also includes an informative take-home pamphlet for consumers to discover the role a cabin air filter plays in their vehicle. Many buyers gave significant feedback, noting the value of the Febreze partnership, and in turn, creating a dialogue that has led to significant purchases.
Best Video
Purolator was also honored with an award for creating a video that emphasizes the needs and concerns of consumers regarding clean air and vehicle performance. Filtering virus aerosols, dirt, debris, pollen and more, the video highlights PurolatorBOSS as a premium cabin air filter to rid these pollutants from a customer's vehicle. This video proved successful, as it garnered hundreds of thousands of views online and millions of impressions on digital TV. Gaining strong engagement on social media, Purolator's video has continued to inform audiences on the importance of air decontamination. 
The Women in Auto Care Awards Ceremony recognizes companies and agencies that provide automotive information through outstanding advertising, marketing, and public relations efforts. The awards cover several Business to Consumer and Business to Business categories. Recipients will receive recognition during the Women in Auto Care Automotive Communications Awards Ceremony during AAPEX.
The award-winning video can be viewed here: https://youtu.be/GyvNBXNB5Y4