Purolator Launches PurolatorPRO, a New Mobile Catalog App for Industry Professionals
Raleigh, N.C. – Nov. 2, 2021 – Purolator Filters (a division of MANN+HUMMEL– the leading global expert in filtration), announced today that the company has launched PurolatorPRO, a new mobile catalog app available for both iOS and Android users.
With just a few clicks, the app allows professional installers, technicians, service writers, and shop managers to access the newest cataloging information for all Purolator filters. To make application lookup even faster, the app includes a fully integrated VIN decoder search option. Simply take a picture of the VIN with your phone, and the information is available instantly. Additional features of the app include cross-reference details, competitive interchange data and installation instruction sheets and videos.
The PurolatorPRO app provides access to the entire Purolator product portfolio, enabling professionals to view product availability and offering upsell opportunities. Users can search for Purolator filters for passenger cars and light trucks, motorcycles, UTVs, and ATVs, and commonly used vehicles can be added to a customized favorites list.
"At Purolator, we are committed to providing customers with the most up-to-date tools to run their businesses," said Tina Davis, senior marketing manager of brand and communications at MANN+HUMMEL Purolator Filters LLC. "The PurolatorPRO app provides an easy way to access any information a professional may need to efficiently move vehicles through the service bay, increasing bay turn and profits for the service facility."
Press Contacts:       
Tina Davis
Phone: 919-926-4150
Email: tina.davis@mann-hummel.com
Julia Voutour

Phone: 716- 629-3135
Email: jvoutour@gelia.com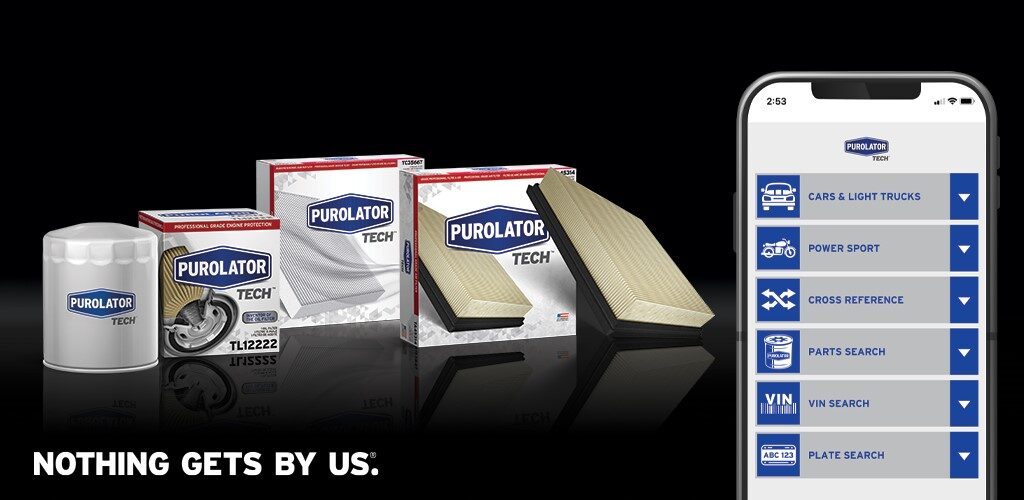 About Purolator
Purolator is an innovator of automotive filtration products for the aftermarket, manufactured to the highest standard by American workers in Fayetteville, N.C. Trusted by professional automotive technicians and do-it-yourself consumers across North America, the Purolator product line includes oil, air, cabin air and fuel filters. An industry pioneer since inventing the first oil filter in 1923, Purolator is backed by an internal team of forward-thinking engineers and countless filtration patents. The company's mission to deliver solutions to support the improved performance of advanced engine and oil technologies reinforces a renewed brand promise – "Nothing Gets By Us.®"
For more information, visit www.PurolatorNOW.com
About MANN+HUMMEL
MANN+HUMMEL is a leading global expert in filtration. The Ludwigsburg-based group develops filtration solutions for vehicles, industrial applications, clean air in indoor and outdoor spaces as well as for the sustainable use of water. In 2019, over 22,000 employees at more than 80 locations worldwide generated a turnover of EUR 4.2 billion. Products include, amongst others, air filter systems, intake systems, liquid filters, technical plastic parts, filter media, cabin filters, industrial filters and membranes for water filtration, sewage treatment and process applications.
You can find further information on MANN+HUMMEL at https://www.mann-hummel.com